About us
Welcome to London City Locksmith, your premier choice for locksmith and security services in the heart of London. With over 15 years of dedicated service, we've become a trusted and reliable locksmith company in the city.
Our Journey
Our journey began over a decade ago, and since then, we've been committed to providing top-notch locksmith and security solutions to our valued clients. Over the years, we've adapted and grown to meet the ever-changing needs of the London community.
Why Choose London City Locksmith?
Experienced Professionals: At London City Locksmith, we take pride in our team of highly skilled locksmiths and security experts. With years of experience, they possess the knowledge and expertise to tackle even the most complex lock and security challenges.

Round-the-Clock Service: We understand that lock and security issues can occur at any time, day or night. That's why we offer 24/7 services to ensure we're there for you when you need us most.

Proven Excellence: Having successfully opened thousands of doors and provided security solutions to hundreds of satisfied clients, our track record speaks volumes about our commitment to excellence and reliability.

Customer-Centric Approach: At London City Locksmith, our customers are at the heart of everything we do. We prioritize customer satisfaction above all else. Your safety and security are our top priorities.
Our Mission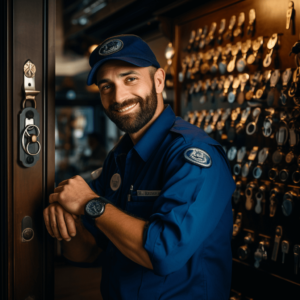 Our mission at London City Locksmith is simple yet profound: to provide peace of mind to our clients by delivering exceptional locksmith and security services. We believe that everyone deserves to feel completely safe and secure in their homes and businesses, and we're dedicated to making that a reality. With over a decade of experience, we've built a reputation for excellence in the locksmith industry. Our team of highly skilled professionals works tirelessly to ensure the safety and security of our clients in London. We take pride in our commitment to reliability, quality, and customer satisfaction. Your security is our top priority, and we're here to serve you 24/7, ensuring that you can always rely on London City Locksmith for all your locksmith and security needs.
Meet Our Team
At London City Locksmith, we take pride in introducing you to our passionate and highly skilled team of professionals. We are dedicated to locksmithing, and our commitment to excellence is evident in every project we undertake. Each member of our team undergoes rigorous training and is fully equipped to handle a wide range of locksmith and security tasks. We believe that the strength of our team is the foundation of our success, and we've carefully assembled a group of experts who share our values and dedication to providing top-notch locksmith and security services. When you choose London City Locksmith, you're putting your trust in a team of professionals who are committed to your safety and security 24/7.
Contact Us
We're here to address your lock and security needs. Whether you require emergency assistance or want to discuss security solutions for your home or business, don't hesitate to reach out to us. Our friendly and knowledgeable team is always ready to assist you, day or night.
Thank you for choosing London City Locksmith as your trusted locksmith and security partner. Your safety is our priority, and we look forward to serving you.